Endorsed by both the Tallahassee City Commission and the Leon County Board of Commissioners in 2001, the Positive Aging Community Project—previously known as Elder Ready Community Project–works to create an environment for seniors, caregivers and families that encourages independence and the opportunity to age in place–with dignity, security and purpose.
Local Governments Work Together for Seniors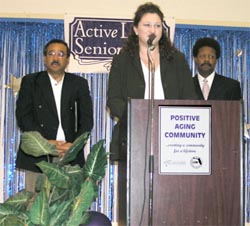 Commissioner Bill Proctor joins Mayor John Marks and Kim Lindsay, with the Department of Elder Affairs Communities for a Lifetime initiative, in recognition of the achievements Tallahassee-Leon County has made towards the Positive Aging Community Project. The focus of this project is to create an environment for seniors, caregivers and families that encourages independence and the ability to age in place – with dignity, security, and purpose. The recognition ceremony was held May 19, 2006 at the Tallahassee Senior Center.
Accomplishments 2001-2005
Resources and senior-relevant information printed in Active Living magazine in the Tallahassee Democrat.

Senior Outreach program established in four rural communities.

Senior Services satellite programming at Smith-Williams Community Center.

Inventories available for distribution on many topics of interest to seniors on Resource Cards.

Increased availability of caregiver services offered in partnership with Alzheimer's Project of Tallahassee.

Networking Expos and Luncheons connecting senior services and professionals in specific areas of interest, i.e. faith leaders, caregivers, first responders.

Broader variety of and increased number of partnerships, i.e. life long learning, recreation.

Inventory of senior-friendly amenities available in faith-based organizations.

Partnership with the Council of Neighborhoods Association (CONA) created.
Tallahassee-Leon County Community Demographics and Trends
Tallahassee was listed as one of six retirement "hotspots" by Consumer Reports Money Advisor within the next 10 years.

In Leon County, the number of people age 65 and older will increase from 19,891 in 2000 to 43,024 in 2025, representing a 116% increase. (University of Florida, Bureau of Economic and Business Research)

According to the 2000 Census, 8.3% of Leon County's population was age 65 or older. By 2030, it is projected that 16.3 % of Leon County residents will be older than 65.

29% of people in T-LC are already seniors, baby boomers or caregivers (age 45 and older).

Between 2005 and 2030, the overall population of Leon County may grow by 1.4 percent annually, while the population age 65 to 79 will grow by 6.5 percent a year. The population of those older than 80 will grow at a rate of 5.9 percent a year.

90% of T-LC seniors are well and independent with no mobility or self-care limitations, making the Senior Center and its satellite sites vital services in helping individuals stay well and connected to their community.
…Creating a Community for a Lifetime
PAC Leadership Team
Judith Barrett
Barbara Black
Ken Brummel-Smith, M.D.
Jerry Conger
Susan Davis
Bryan Desloge
Louise Engle
Cathy Jones
Jacquelyn Lloyd, M.D.
Sheila Salyer
Hella Spellman
Ann Westall
Janice Wise
Positive Aging Community Purpose
Beginning in February 2005 the Positive Aging Community (PAC) leadership team reviewed the work completed since 2001 and prioritized areas they feel are most important. The top three priorities of the team are transportation, medical services and senior housing.
To meet the challenge of making our community senior-friendly and boomer-ready, the PAC team enlists the partnerships of area professionals in their fields of expertise and identifies ways to fill gaps of service to seniors. They must determine what can be accomplished with existing resources, what needs new and/or additional resources, what is short-term and what is long-term, and who can help.
Through the work that has been done, awareness of senior issues has been raised, especially to people and professionals beyond the aging network. But there is much more work to be accomplished. Making a community senior-friendly enhances all other programs and services. Ultimately, the project should be positioned to play a major role in influencing government and business decisions in regard to issues which impact senior services and quality of life.
Some Goals and Objectives
---
Educating seniors, caregivers and their families about available senior-friendly services and activities in the community.

Producing senior resource guides on essential and quality of life programs available in the community.

Reporting to the City and County Commissions the gaps in services that create barriers to independence.

Increasing awareness in City and County departments to consider senior-friendliness in future plans and retrofitting existing projects.

Recognizing neighborhood associations for their efforts to become more senior-friendly by working with the Council of Neighborhoods Association (CONA).

Encouraging and educating faith-based organizations to help keep their senior members involved in their congregations.

Training businesses to be more accessible and affordable to senior customers, and more available to older workers.

Playing a major role in influencing government decisions in regard to senior issues in our community.
Caregiver Services
A partnership between Tallahassee Senior Citizens Foundation and Alzheimer's Project of Tallahassee
The Alzheimer's Project of Tallahassee (APT) is a non-profit organization that coordinates trained volunteers who go to the homes of Alzheimer's patients and stay with them. This allows their caregivers some time outside the home to run errands, attend doctor's appointments, connect with friends, exercise, or simply rest. Known as respite care, APT's services are free of charge.
Located at St. Paul's United Methodist Church, 1700 North Meridian Road
Phone: 386-2778
Office Hours: 8 a.m. to 4 p.m., Monday through Friday
Through a partnership with the Tallahassee Senior Citizens Foundation, APT works cooperatively with Senior Services to provide additional respite, volunteer services and outreach for caregivers in the Tallahassee-Leon County community. Under this agreement, the following services and benefits result from this partnership.
Services:
---
Increased in-home and support group respite services for caregivers.

Priority Respite Care for Senior Services participants.

Additional caregiver and volunteer training, management and recognition.

Increased access to counseling services, case assessment and case management for caregivers and Alzheimer's victims.

Linking caregivers and Alzheimer's victims with "Project Lifesaver," offered by Alzheimer's Project of Tallahassee in partnership with Leon County Sheriff's Office.
Powerful Tools for Caregivers
Respite care available at no cost.
Call the Senior Center for a current schedule.
For all caregivers, caring for someone with a chronic illness, such as dementia, heart disease, Parkinson's or stroke can be stressful physically, emotionally and financially. Powerful Tools for Caregivers is an educational program designed to provide caregivers with the tools you need to take care of yourself while you're caring for someone else. The program consists of six weekly 2 1/2 hour sessions. Call 891-4003 for more information, to pre-register or to arrange for respite care.
Support Group for Caregivers
At Alzheimer's Project of Tallahassee
2nd Monday, 6-7:30 p.m., dinner provided; respite room available
1st, 3rd and 4th Tuesday, 11 a.m. - 1 p.m., lunch provided; respite room available
This is an informal gathering where participants laugh, cry, share experiences, ideas and practical advice. The group leader has a Master's degree in counseling and psychology, and is specially trained to work with Alzheimer's patients and their families. Respite care for the Alzheimer's patient is offered during the Support Group, free of charge, with 24-hour advanced notice.